Tri Cities Immigration Attorneys | (509) 822-5297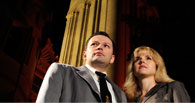 Our Tri Cities immigration attorneys are located in Kennewick, Washington. Our office handles USCIS residency and citizenship petitions in addition to providing deportation defense services.
Most of our clients are seeking a law firm that can accommodate their family needs. We handle the entire immigration process, from translating documents, to assisting with any document retrieval request. Our attorneys will work with you to stablish the best path for your immigration status. In some cases, the best path may be before an immigration judge, or it may be a direct filing with USCIS. In other circumstances, the time frame required for a petition is significant; thus seeking viable alternatives is crucial.
Immigrants and Non Immigrants
The term immigrants under immigration law are for those who have expressed to an immigration officer a desire to remain in the United States. Immigrant is defined as every foreigner that is not non-immigrants. Our Tri Cities immigration attorneys remind you that there is a presumption under the Immigration and Naturalization Act (INA). The INA sets forth a presumption that every individual coming to the United States are immigrants. The presumption is that they want to reside permanently in the United States. It is therefore extremely important on the arriving foreigner at the port of entry to prove that they are authorized to enter the United States in the category in which they want to be. That they are in good faith immigrants or non-immigrants.

Non-immigrants are individuals who have entered the United States for a specific period of time and for a specific purpose. Our Tri Cities immigration attorneys can advise when the category changes. Non-immigrants are not entitled to remain in the United States indefinitely. Non-immigrants are specifically defined by the INA and includes: 1.  Certain foreign officials, 2. Students, 3. Those who are in transit through the United States, 4. Certain crewmen, 5. Skilled and unskilled workers, 6. Religious workers, 7. International cultural exchange programs participants, 8. Business visitors and 9. Visitors for pleasure.
Quiroga Law Office, PLLC | Tri Cities Immigration Attorneys 
(509) 822-5297